For many of us, video games are a fun way to spend an evening. However, for some, video games are an integral part of our lives. When we're not playing them, we're reading about them, trawling through forums and 'let's plays', and making them. The Global Game Jam brings together like-minded people for an intense three days of developing a game from scratch.
After two years of hosting the Game Jam virtually through Discord, the Institute of Digital Games opened its doors to welcome this year's cohort of aspiring game developers. 'It's exciting because we get to meet the people in person. Both new and old faces,' says Dr Antonios Liapis (Senior Lecturer, Institute of Digital Games, UM). Jammers bring their own laptops, equipment, and even their own sleeping bags to hunker down and develop their own games as part of this global event.
Within the Institute, participants are huddled together. Some are developing the code of their game, others are sketching out the artwork needed, while others still are out getting snacks to fuel their team's efforts. Despite the pressure to develop a game in three days, there is a wholesome atmosphere. Teams often pass by each other and offer a helping hand to one another, creating a collaborative environment.
The Game Jam forms part of a global network, with developers from all over the world participating. The Global Game Jam organisation (https://globalgamejam.org/) provides the jam dates and the theme, which are common across the 800 jam sites around the globe. However, each jam site has its own format and approaches. Liapis explains how 'there are three unique aspects that we do locally to help foster a sense of community and to support local developers.'
1. On-boarding
While some jammers might come with their own pre-formed team, it is also possible for people to come by themselves and join a team on the spot. 'We want to support newer members to help them meet and integrate with the local game developer community. We hold a socialising and brainstorming event at the very beginning of the event to help people form their teams,' explains Liapis. The brainstorming also helps get the creative juices flowing so teams have an idea of how to develop a game in accordance with the theme. This year's theme was 'Roots'. 'We use props to help elicit ideas behind the theme. For example, roots could inspire ideas about plants and nature, but it could also refer to ancestry and exploring our darker past. These brainstorming sessions, besides on-boarding members, also allow for a cross-pollination of ideas,' tells Liapis.
2. Building Bridges
The Game Jam allows for collaboration between the community and local industry. There are check-in sessions held on Saturday, which besides allowing jammers to gain crucial feedback, build bridges between aspiring developers and industry experts. Liapis explains how 'there was a panel of experts, for example UM alumni who have worked in the AAA industry and video game scholars, who came around informally as the jammers worked. It gave jammers the chance to pitch their idea and gather initial feedback.'
3. Celebrating  
Finally, it's important to celebrate the successes of the Game Jam. On Sunday, the final day of the Game Jam, there is an Arcade Mode. Jammers come around and have a chance to play each others' games before holding a community vote. It is a fun way to test out and play the games that jammers have lovingly created, and despite the three-day marathon, jammers were still excited to have a go at each other's creations! 'It is a wholesome community. Experts take young and aspiring game developers under their wing. Jammers respect each other, and with such a community, the event practically runs itself!' beams Liapis.
THINK was fortunate enough to be invited to take part in this year's Arcade Mode and experience the games developed by Malta's budding gaming community first hand! We've prepared a short overview of the games developed locally, and you can even try the games out for yourself by clicking on the relevant links!
You are Puu. You belong to a Treant who was cursed by a wizard loan shark to be rooted in one place like a peasant tree. The Treant owes the wizard a huge amount of money and hopes that he will remove the curse if it pays him back. This is where you come in. The Treant is selling medicine to creatures. In order to make said medicine, it needs someone to pick them up from the depths of its roots. This is your job. Deal with it and start playing.
Your job, as Puu, is to work your way through an underground labyrinth of roots, collecting ingredients to create '100% plant-based medicine'. The game itself is timed (just like your home loan), adding to the challenge of collecting enough ingredients on time to make ends meet. What makes Albero & Puu stand out is its unique art style, which makes sense given that the team was more design and art oriented. Of course, this presented its own set of challenges, specifically when it came to coding and working with the Unity engine. However, for a team that met for the first time during the game jam, Albero & Puu is a testament to the power of teamwork (especially in the face of crippling debt)!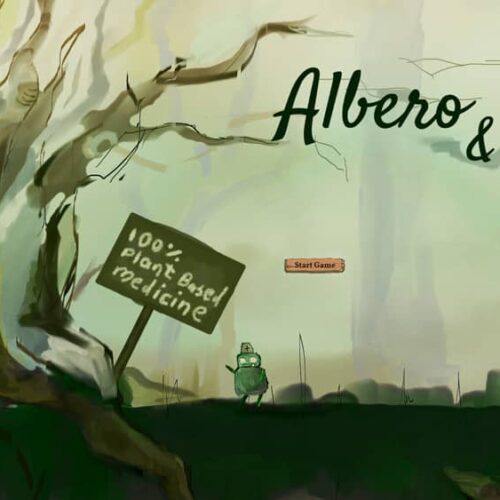 Protect the crops from the roots that grow down under! Destroy any small or large roots before they tangle and destroy the harvest!
In the land down under, everything is upside down, including root vegetables, which grow above ground. As an Australian farmer, your job is to protect your inverted crops. Weeds start sprouting up like, well, weeds, and you need to cut down those weeds before they take over. The game itself is hex-based, and each tile has a chance of spawning weeds. Once the weeds start growing, it will take longer to cut them down, which in turn means that even more weeds will grow. While you will inevitably get overrun, there is an addictiveness to the gameplay. You'll find yourself hitting the 'Start' button to have another go!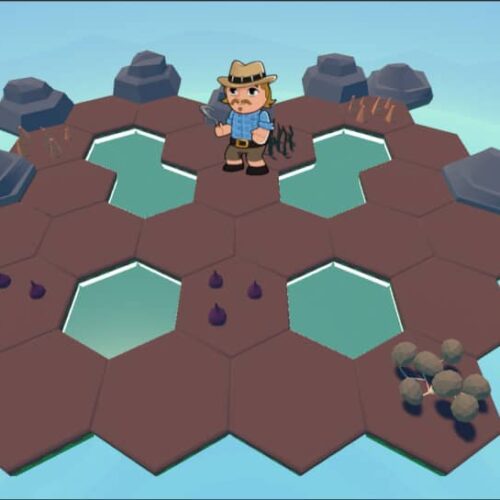 In a world where the last root vegetables are under threat, one farmer – humanity's last hope – stands alone, between the vegetables and a leporid-infested doom. Grabbing your trusty weapon, control the farmer as he defends his crops against endless waves of adorable bunnies. Defend your farm plots and, more importantly, the golden carrot. In between waves, pick upgrades to improve your weapon and see how long you can survive.
Shroot 'em up is a bullet hell, top-down shooter. In between each wave of rodents, you get to choose between three random power-ups. These power-ups might give your shots spread like a shotgun, increased movement speed, rapid fire, increased range and damage, or piercing bullets. Each wave gets progressively harder until you are eventually overrun. The fast-paced gameplay and intuitive controls will keep you coming back for more as you try to beat your high score!
For the jammers, sticking to the scope was a challenge, as well as fixing those last-minute bugs. While developing the art was relatively straightforward, creating the sound and audio was challenging, as each new feature and upgrade required its own unique sound. That being said, it's always satisfying to see (and hear!) your enemies turn to pulp just before they reach your golden carrot!
PS: The spread upgrade is wonderfully OP!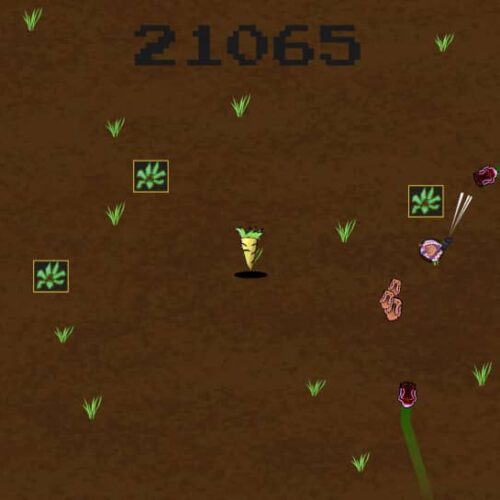 Sudo is a 2D platformer game where the objective of the game is to get from one side to another. Players will face obstacles such as platforms, glitches, and spikes throughout their journey. To get over these obstacles, the players have the ability to create Roots that can be used as platforms, but they have to be careful to not waste their resources. Players can get resources back by picking up leaves or destroying the platforms they created.
Side-scrolling 2D platformers have been a staple in video games ever since Mario and Sonic graced consoles. Sudo innovates on the classic formula by giving players the ability to create their own platforms. The game is set in an apocalyptic future within the mainframe of a conscious super-computer. The narrative-driven game draws inspiration from Portal (an omnipotent, evil AI) and Cyberpunk 2077 (in terms of setting). Sudo has a lot of potential, and considering the developers only had three days, they managed to reimagine the classic platforming genre!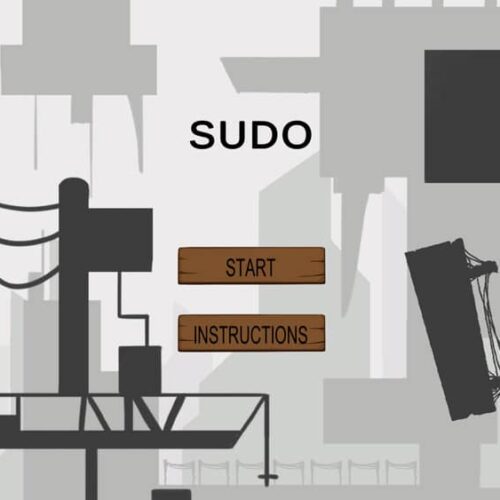 Root² is a cooperative split screen arcade game in which two players take control of a plant. One player takes on the role of the root, gathering nutrients, while the other player embodies a flower bud collecting raindrops, growing ever taller until finally blooming. The goal is to achieve a balance between the growth of both players.
Root2 evokes the retro feel of classic arcade games, thanks to its vintage art. Rather than beating the other player, the game rewards growth and being synchronised with one another. Power-ups collected by one player are transferred to the other player. For example, if the flower collects rain drops, this results in a speed boost for the root, while crashing into balloons and other hazards slows the root down. The split screen co-op creates a refreshing change of pace from most contemporary games. Besides your collective high score, keep an eye out for the handy little 'sync score' shown at the end of the round!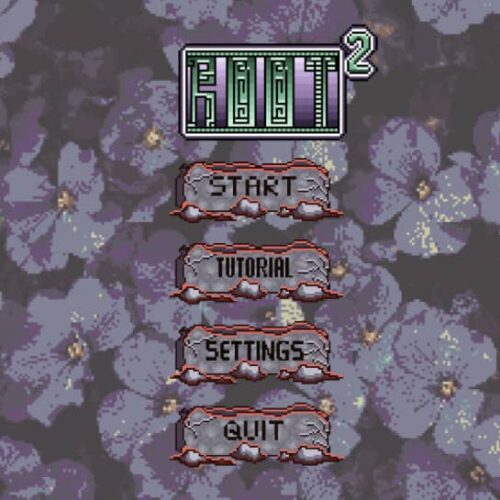 Play as four birds working together to deliver eggs to their mama birds as quickly as possible!
Any self-respecting gamer has fond memories of playing video games in the living room with friends and family. This four-player co-op game has players trying to juggle coloured eggs and deliver them to the corresponding mother hens. In essence, the game is a sliding puzzle. Players have to communicate to open a path to each other as each chick (or player) can only hold one egg at a time, so talking (or rather shouting) at each other is key!
The game is a puzzle at its core, the idea being for all players to be active at the same time. The game itself requires four controllers (and three other players). This created technical issues for the team when trying to get the equipment to work. However, it certainly paid off as playing on the SNES controller gave the game a wonderfully nostalgic vibe!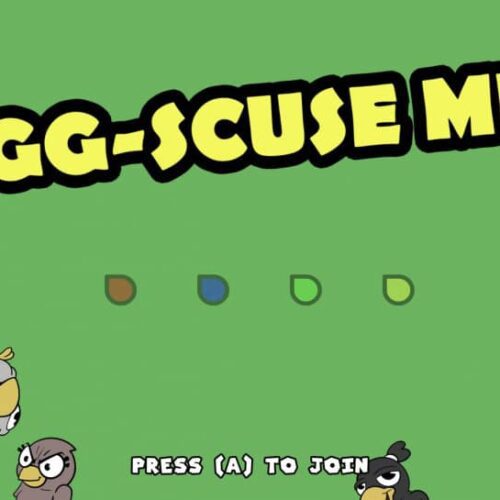 Be sure to try out some of these games for yourself! While the games are blast to play, the Game Jam brings gamers together to create a delightful community of developers, artists, writers, programmers, and players. Besides, creating video games and playing together is an amazing experience in itself!