In 2013 two diving buddies attempted to build a watch. Less than five years later, they have created and commercialised a solution to a fundamental problem with a budding and disruptive technology. Here is the story of Thought3D, from diving deep to making waves. Words by Sam Stanfield.
Humans have been granted the power to take an abstract thought and transform it into a physical object in mere minutes. Not by magic, but by 3D printing technology.
Layer by layer, computer controlled printers can now create complex items of almost any shape, including moving parts. As the process becomes simpler and more easily accessible, invention, customisation, repair, and replacement have the potential to drastically change consumer culture. Advanced equipment and printing materials will see breakthroughs in medical treatments and humanitarian projects. 3D printing is allowing innovation on all frontiers.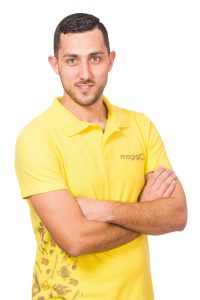 In Malta, one name is making its way to the forefront of this young and growing industry. Attempting to solve problems creators were facing, Edward Borg and Dr Keith M. Azzopardi took their 'if you can think it, you can develop it in three dimensions' attitude and started their company, Thought3D.
The University of Malta (UoM) brought Borg and Azzopardi together in 2009, reading for degrees in electronic engineering and metamaterials respectively. Hangouts and parties ensued, but a true friendship solidified when the pair signed up to a scuba diving course.
Mutual interests in inventing, building, and testing saw them sharing all sorts of ideas. But it was in places like Ċirkewwa, while submerged beneath the waves, that the dangers inherent in diving truly established a solid sense of cooperation, reliance, and trust between the two—vital for starting a business. With that, they were ready to take the next step and get one of their many ideas off the ground.
Safety first
In the summer of 2013, the ambitious pair picked what appeared to be the obvious choice. 'We both like diving, we both know the risks involved, let's develop a watch which also acts as a safety device,' they proposed. Before they had even acquired any funding, they began developing a prototype. As such, all they had to work with were hand tools such as drill presses and grinders. Unwilling to be defeated, they explored other manufacturing machinery, which led them to 3D printing, which changed their lives.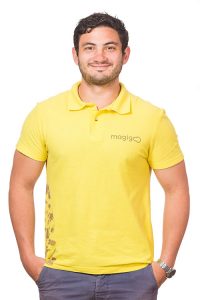 3D printing is a technology ideal for prototyping thanks to its speed, relative simplicity, and inexpensiveness. Azzopardi already had some familiarity with the technique because it was used in the Metamaterials lab (Faculty of Science) during his time at the UoM. To cut costs, they decided to build their own printers.
At the time, 3D printing for the public was in its early days and, as with most nascent technologies, quite expensive. For example, fused deposition modelling, the most common technique amongst beginners, involves pulling a plastic filament into the machine, melting it, and then depositing the viscous liquid onto the build plate to harden. The cost of these raw filaments used to be approximately €40 per kilo, making quite a dent in the builder's budget, especially if the print were to fail. Azzopardi and Borg realised that they could reduce the amount spent on materials by an order of magnitude, using raw pellets rather than filament. To do this, they engineered their own version of a printing part called an extruder that would fit on a desk and allow these pellets to be melted and pushed through the printing nozzle using a simple drill screw.
While this invention's build costs turned out to be too high to justify sales, the innovative project impressed Ben McClure and Prof. Saviour Zammit at the UoM's business incubator, TAKEOFF. The team was accepted into the incubation program. With this success under their belts, they now had a space to work in.
Realising that they wanted to help inventors and businesses by offering 3D printing services, they bought two new printers. As their proficiencies grew, they designed and printed a quadrocopter that could be disassembled and used as a platform to teach programming, coding, and electronics to the younger generation. This little project turned into the ideal submission when an opportunity arose. The Malta Communications Authority (MCA) had partnered with TAKEOFF, offering support to local start-ups in the development of innovative business ideas. Now having registered their company as Thought3D, it was time for their first official pitch.
A jar of goo
Mentored by Andrei 'Andy' Linnas, then a manager at TAKEOFF, they got through to the finals of the MCA/TAKEOFF competition, but fell short of winning the funding. Despite the setback, the team had learnt a lot. They realised that they had too many ideas on the go at once. They needed to focus, or drown in their ambition. With their small team, they needed to dedicate their time, energy, and resources wisely. But with so many ideas, what should they concentrate on? A timely visit helped answer this question.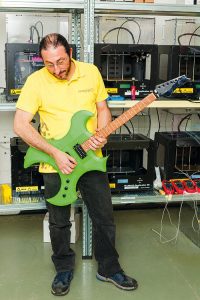 The Knowledge Transfer Office (KTO) received a phone call from the Dutch embassy. Saswitha de Kok, a representative of 3D printer manufacturer Leapfrog, wanted to visit the UoM and meet anyone making advances in their industry. Cue Thought3D. Borg and Azzopardi showed her round their lab, exhibiting a selection of their best work: the extruder, printer prototype, and quadrocopter. However, when they mentioned an innocuous Nutella jar full of goo, her interest piqued.
Having started offering 3D printing services to clients, the duo soon got stuck on a common problem. As the printer works, its unfixed product tends to migrate across the surface, or peel up from it, wasting a lot of plastic in the process. At first, they were babysitting the machine for the duration of the print, but this 'solution' was impossible to sustain. They turned to other available adhesives, to no avail. Sprays stuck in printer parts, tapes proved tricky to apply and troublesome to remove. Other options either wore away too quickly or were not safe to work with. The team had to overcome this issue, or stop providing services outright.
After many rounds of testing and trials, they developed an answer to their problem—a special adhesive. This wonder glue could be applied to the print surface to help the object stick when the surface is hot, and be released after it cools down. This was the substance kept in that chocolate spread container and they named it Magigoo.
To Europe and beyond
Magigoo became their focus. They were determined to plunge into production, and quickly. In April 2015 Borg and Azzopardi were able to apply for the TAKEOFF Seed Funding Award (TOSFA), and employing their previous pitching skills, they won! With the €15.5k, they focused on three aspects: setting up their minimum viable manufacturing, optimising their branding and packaging, and launching their first product. Their intention of launching at the TCT 3D printing show in the United Kingdom at the beginning of October meant that they only had one month to complete all those tasks. They had to work hard and smart. Rather than outsourcing production or buying off the shelf, they bought second hand equipment at a fraction of the cost, then repurposed it to fit the new production processes necessary for large batches. Even when EU standards almost prevented them from shipping Magigoo to most of Europe, the team rallied and redesigned the formulation. Thought3D took all this in stride.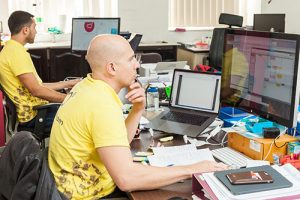 By the time the TCT show arrived, Thought3D were ready. Knowing that their start-up stand would be very small, they were ready to employ intelligent tactics to maximise interactions. 'Before the show we emailed other companies telling them we were going to be there and that we'd like to meet them. We told them about our product and that we'd like to exchange samples,' explains Borg, 'We also visited literally each and every other stand,' he continues. Networking in the industry was key to being nominated for the Best Emerging Company award. 'We also shifted our distribution strategy thanks to that show,' remembers Borg. 'We realised there was more pull from manufacturers and resellers, rather than directly from home customers. For us, it made sense, since through sellers we would increase the volumes we sell.'
Success in 2015 didn't stop at the TCT show. Thought3D went on to acquire further seed funding from Malta Enterprise called Business Start. They also reeled in numerous awards: the Malta Innovation Award for Best Technological Innovation, a WIPO Intellectual Property Enterprise Trophy, and were finalists of the MCA's Best Tech Start-up Award.
The cherry on the cake came in the form of a new addition to the team. Linnas decided to change from mentor to team member, so in 2016 Linnas joined Thought3D. His experienced input also saw them working with new partners; Ganado Advocates assisted them with the legal legwork, while BRNDWGN helped them create a strong visual identity and a responsive website.
The future was bright for this not-so-little start up.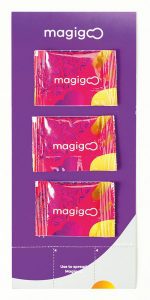 From starting up to spreading out
At the beginning of 2017 Thought3D graduated from the TAKEOFF business incubator, moving their offices out of UoM and into the Kordin Business Incubation Centre. They are now closing their first seed fund. They are continuing to establish their brand and make the industry aware of them and what they represent. 'Regarding distribution' says Linnas, 'we are already present in almost all EU countries and in 3D printing related online shops. We're also selling Magigoo from our web shop directly to customers, or to countries that are not yet represented. We can do that because we have no restrictions for transportation of this product. You can even take it onto an aeroplane, no problem!'
Continuing to broaden their horizons, the guys have struck a deal with Amazon US, who will be importing Magigoo directly from Malta. They are now aiming to create a product line by varying the adhesive's formulations to provide the best performance according to the 3D printing material.
In the years since they met, the communication and problem-solving skills that kept these diving buddies safe under the sea have also allowed them to ascend from bromantic beginnings to running an internationally recognised business. They began their entrepreneurial journey wet behind the ears, but by sticking with it and going with the flow, they kept their heads above water.