As a founder of a
start-up company
Dr
David Darmanin
had some very useful advice to share with the crowd of entrepreneurs seated at the
ZEST
Malta 2016 conference. Over 100,000 Internet sites used his company in a year.
He started his talk entitled Rise of the User by discussing the recent changes technology has done to our lives. People are dependant on the Internet and social media. Social connections are influencing peoples' decisions. By typing a few words into a search bar people can read reviews and share their opinion on products. People then share these opinions to anyone in their network. Entrepreneurs can tap into these networks to reach a targeted worldwide audience for a much lower cost than previously possible.
Another benefit of the Internet is in attracting employees from all over the globe. When starting up a company, managers are not limited to employees found within a few miles of the company's headquarters. The best candidate for the job could be in another continent or time zone. Having employees from all over the world is an advantage since they have different perspectives and ideas, which they can input into your start-up company.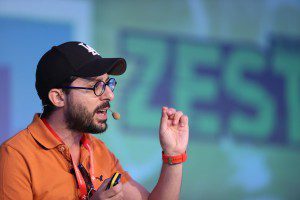 A start-up company needs a good website. This website should represent what the company stands for. When a client enters their website they should ensure that he or she has an enjoyable experience. Darmanin summarised this perfectly stating that 'the only way to win in the long term is to prioritise your user'. If your users are dissatisfied they will complain and give your website a bad reputation but if they have a memorable experience then they will come back again, while advertising your company to others. A way to improve a website is by qualitative research. Placing questionnaires at the end of a user's experience can help rate it, while giving suggestions on how the website can be improved.
These simple tips can help any start-up company launch from a solid base.
The Zest Malta 2016 conference  was aimed at entrepreneurs, start-ups, disruptors, and investors. Several talks, panels and workshops were held to help create connections between the attendees and empower them with the right toolkit.