Mecon is an ongoing research project for the 2015 edition of the IASS EXPO, themed Future Visions which is to be held in Amsterdam between June and August 2015. The project is to design and build a structurally innovative, deployable pavilion in a bid to celebrate Future Visions in the field of engineering design and innovation. Mecon is the solution created by a team of five recently graduated architects.
Mecon is a deployable structure which transforms from a cube into a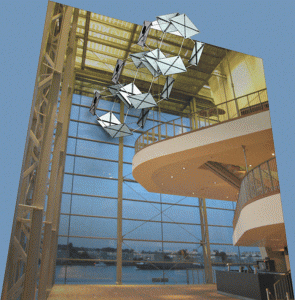 truncated octahedron (mecon is a term coined by Buckminster Fuller). The change in geometry increases its volume thrice which opens a host of new applications.
Each cube is only capable of transforming into the mecon if its edges are equal in length and follow a specific path dictated by the unique joints the team designed. The transformation is simple, and the joints can be scaled to produce a mecon of any size, but for the EXPO the team had to abide by strict weight, size, and transportation restrictions.
Mecon has only been possible thanks to the support of Prof. Alex Torpiano and Prof. Dion Buhagiar (Faculty for the Built Environment), and Prof. Joseph Grima and the Auxetics Research Group (Faculty of Science, University of Malta), and Lee Bullock from Proto+. After the expo, the pavilion will be reassembled in Malta.
---
If interested in exhibiting this structure, please contact team@mecon.space
and like the Facebook page www.facebook.com/mecon.space