A love for botany, the birth of her children, and a strong interest in public health problems—this is what led Assistant Professor Shirley Micallef to her current position in the Department of Plant Science and Landscape Architecture (University of Maryland). She speaks to Veronica Stivala about beer brewing, native plant gardening, and the safety of our salads.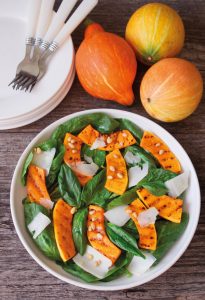 Roast pumpkin with soft goat cheese strewn on a bed of basil and drizzled in a herby olive oil dressing. What's your favourite salad? While this is certainly  a more common question than: How safe is your salad?, the latter is probably the one we should be asking. In fact, How safe is your salad? is the title of an intriguing course run by Assistant Professor Shirley Micallef (University of Maryland).
'Everyone eats, everyone has an opinion about food, how it is made and where it comes from,' notes Micallef. 'However, few are aware of the complexity and globalisation of the food system, the risks associated with producing, handling, transporting, and storing food, as well as how tenuous food safety can be.' Micallef's course about the microbiological safety of fresh produce is enriched by the diversity in academic backgrounds among the students it attracts. 'Most people only think about it when something goes wrong, but for people in the agriculture and food industry, food safety pervades many decisions they make,' explains Micallef.
It comes as no surprise that in her free time Micallef can be found happily pottering away in her garden. 'The botanist inside me is still there,' she confides, sharing how she has filled her back yard with native species to attract and support wildlife, including the local bee population.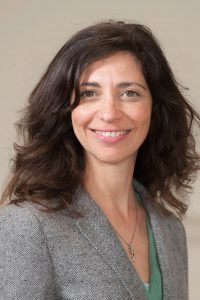 Micallef has a zest for life and the natural world. It is autumn when we speak and she mentions how the season means that her and her family can now pick apples and pumpkins, bake pies, brew beer and celebrate Halloween.
Indeed Micallef's children helped her develop such a strong relationship with food. 'After having our daughter, I became more aware and interested in food and nutrition, so when the opportunity for a postdoc in food safety microbiology came along, I went for it,' she recalls. 'A few years later I was offered my current position [as Assistant Professor in the Department of Plant Science and Landscape Architecture] where I finally found a way to tie all my studies and experiences together. My background in plant science, my training in microbiology, and my enthusiasm for public health problems all inform my multidisciplinary research on the interaction of human pathogens with plants that we grow for food, using a Salmonella-tomato model system.' This work will ultimately provide a better understanding of foodborne diseases and reveal better, more effective ways of reducing their transmission and incidence.
Micallef's fascination with biology has been present since childhood when the subject was at the top of the list when it came to her favourites in school. At university she went on to study botany and ecology. This scientist also ventured underwater and studied seagrasses for her Masters in Plant Biology (University of Malta). 'Eventually,' she says, 'I did a Ph.D. in plant and soil microbiology at the University of Massachusetts, which kept me mostly in a lab running molecular biology experiments.'
Her love for botany stands out prominently in our exchange. Micallef spent a while working in Malta as an environmental biologist, mostly bringing botanist skills to the table. However, although she loved this work, Micallef admits that there came a point where she felt she needed a new challenge and a change. 'That is how I ended up in the US, studying how plants influence the type of microbes that colonise their root system,' she comments.
Micallef's research fuses both plant science and the microbiology of plants. By managing to attract externally-funded research programmes, she now leads a team of post-docs, and doctoral, Masters, and undergraduate students. The team conducts field and laboratory research on plant-bacterial interactions. Recently, Micallef and her team, in collaboration with the US Food and Drug Administration (FDA), have been looking at how soil fertilisation, rain, and insects affect the microbiome of tomato and cucumber crops.
'I think it is challenging for most scientists to communicate the significance of our work to people outside of their field,' she confides.
When asked about what she thinks is the most difficult aspect of her scientific field, Micallef reveals that rather than the science, it is the communication that can be tough. 'I think it is challenging for most scientists to communicate the significance of our work to people outside of their field,' she confides. That can make it hard to acquire funding or garner attention. She goes on to note how, in her current position, the most challenging aspects are securing external funding for her research, which works not only to conduct research but to support postgraduate students. 'The more personal challenge,' she goes on to note, 'is keeping up with work while maintaining a healthy work-life balance.  I love my job, I am dedicated to my students, but I also need to keep some space for my own personal life.'
Micallef admits that knowing so much about food safety and its contamination means she is 'acutely aware of the risks.' But, sensibly, she also tries not to be paranoid. 'I do believe knowledge is power, so I feel I can make very good choices when buying and preparing food,' she notes. There are only a few things she will not touch with a 10-foot pole: undercooked minced beef, raw milk.  She is wary of raw sprouts, and while she will never give up raw oysters, she does avoid them in the summer.
What advice does Micallef have for anyone who is interested in Plant Biology?
'Plant biology, or anything—go for it. Seek out advice if you can, but do not be discouraged if it looks hard or info is lacking. You cannot plan it all. When I came to the US, 16 years ago, I knew very little about this part of the world, the educational system here or where I would end up, but I followed my interests and opportunities that I came across, and a path unfolded. Academically, we are in an era of multidisciplinary thinking—so seek out opportunities that broaden your perspectives.'