The Cultural Heritage Act of 2002 Article 4(2):

Every citizen of Malta as well as every person present in Malta shall have the duty of protecting the cultural heritage as well as the right to benefit from this cultural heritage through learning and enjoyment. The cultural heritage is an asset or irreplaceable spiritual, cultural, social and economic value, and its protection and promotion are indispensable for a balanced and complete life… Every generation shall have the duty to protect this heritage and to make it accessible for future generations and for all mankind.
In 1992 the European Convention of the Protection of Archaeological Heritage was signed in Valletta. Ten years later the Maltese Parliament enacted the Cultural Heritage Act. This law was meant to prevent the destruction of Maltese archaeological sites. Sadly, this did not happen. Tal-Qares in Mosta is the latest case of an archaeological site that may soon be lost. Grassroots organisers are now fighting to save it.

On this site, recent archaeological discoveries include a three-chamber catacomb and four tombs. Cart ruts have also been reported in this vicinity. As per the 2014 Superintendence of Cultural Heritage Report, the area contains other remains of critical importance, including an early Roman kiln, five ancient water cisterns, and other features typical of ancient Bronze Age settlements.

On 18 November Malta Today reported on Peprina Ltd.'s proposal to build a supermarket 'less than 60 metres away from an existing Lidl supermarket on a site where the demolition of existing warehouses yielded archaeological remains' to the Planning Authority (PA). Building such a structure would also result in the uprooting of 22 trees, including two indigenous Maltese Aleppo Pines, which are a protected species.

As moral, responsible citizens, we have a duty to protect such a valuable cultural and natural site for future generations. The entire area must be declared ODZ.

The battle to save this site from development has been waging for years. Anton Bugeja (Archaeology Society, Malta) highlighted the site's significance, pointing out archival documentation revealing megalithic remains in his 2017 paper, 'Archaeological sites around Tal-Bistra'. He points out the 19th century watercolour by Giorgio Grognet de Vassé (famed architect of the Mosta Rotunda Dome) that shows what appears to be a megalithic wall at the site, with a companion image indicating the location. As photographer Daniel Cilia has proven, when one superimposes the painting with current satellite imaging, they coincide.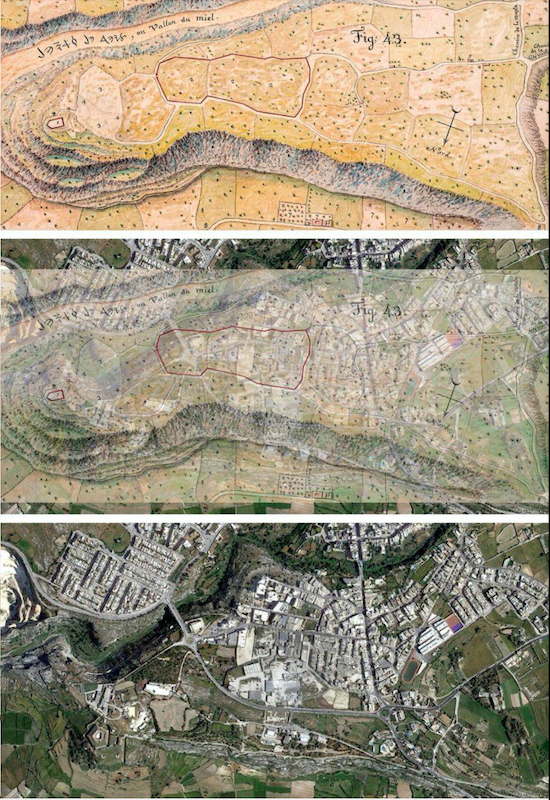 Michael Deguara, University of Malta Lecturer and Anthropologist, in his 2017 representation to the Planning Authority, outlines folkloric, archaeological, and archival evidence tracing the area to its prehistoric occupation. He references E B Vella's 1930 Storja tal-Mosta which tells of megalithic remains in the area and indicates Tal-Qares's previous name, Wesgħa tal-Ġganti, a toponym meaning 'Giant's Clearing' that also suggests archaeological remains. He also noted the 1968 survey sheet indicating the presence of further cart ruts, now destroyed.
Today, sadly, only one megalith remains — spray painted and shoved into the wall paving the walkway to Lidl Supermarket.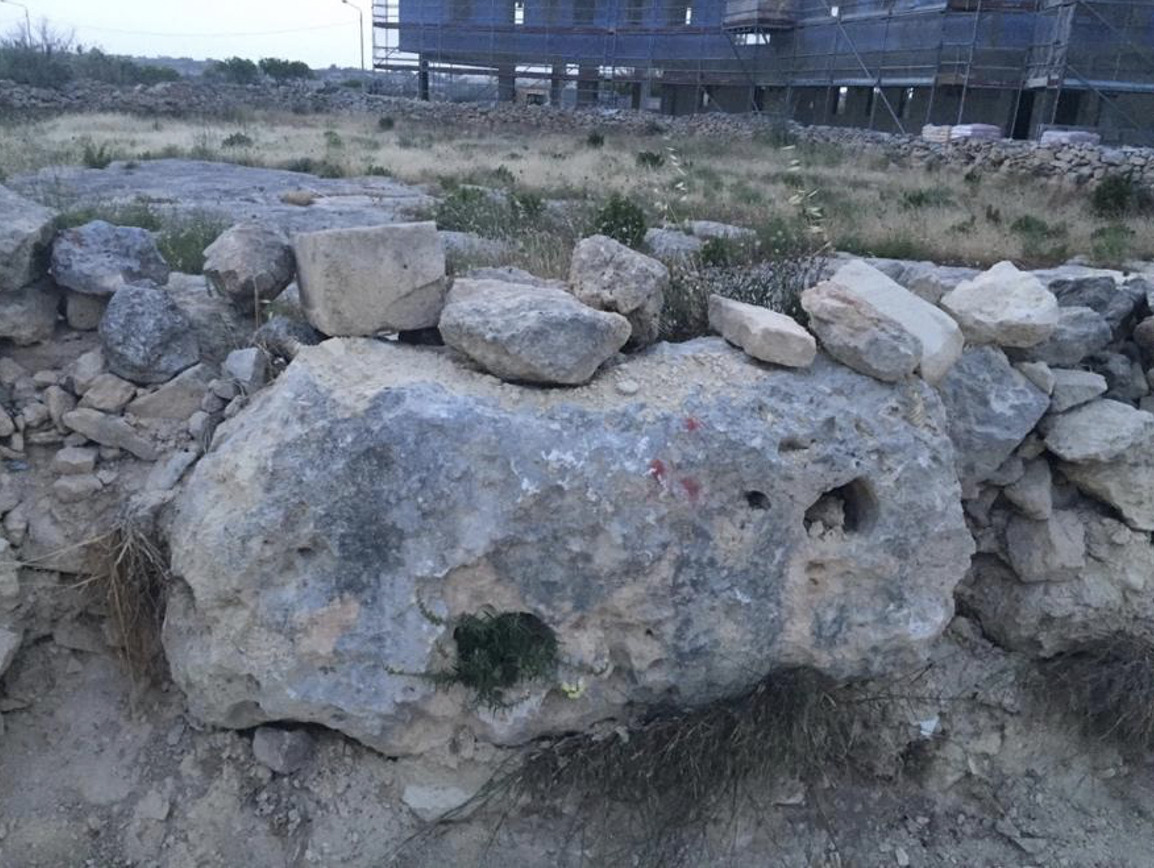 The site had already been flagged for protection. In 2006 the Cultural Superintendent's Office designated Tal-Qares as an 'Area of Archaeological Importance'. In May 2014 the Superintendence of Cultural Heritage's preliminary report, authored by Nathaniel Cutajar and Maverick Spiteri, identified a high field wall as prehistoric and deemed the area 'of high archeological value meriting protection'.

Despite this conclusion, years later, as the Times of Malta reported on 31 Oct. 2017, the Cultural Superintendent's Office changed Tal-Qares's status to one of 'low archaeological importance.' No reason was given. Adding salt to the injury was that the archaeological report was withheld from the public eye for over five years. By the time the report was finally released, development was well underway, and those wishing to protest did not have all of the facts they needed to help stop development.

In 2018 Patricia Camilleri, the current President of the Archaeological Society Malta, submitted a strong objection to the PA, highlighting Tal-Qares's significance. She noted how a 1957 document detailed 'the existence of a Roman Building' on the site and illustrated how the proposed development would interfere with historical interpretation.

The Planning Authority did take these objections into consideration, and a partial victory was claimed. Many of the remaining important features were saved, and the building that was constructed had to be elevated in order to preserve the remains below.

However, developers still distressingly encroached upon and destroyed much of the area. Shockingly, vine trenches on the site were eradicated. Other features were scheduled for destruction after recording. Worse, features such as cart ruts that were slated for preservation were also destroyed with no repercussions.

Where there was once an ancient landscape to roam, two large buildings of flats and an underground garage were constructed. This destruction of natural and national heritage for personal gain steals something from every Maltese citizen. And this shortsighted disregard for the nation's heritage has provoked outrage.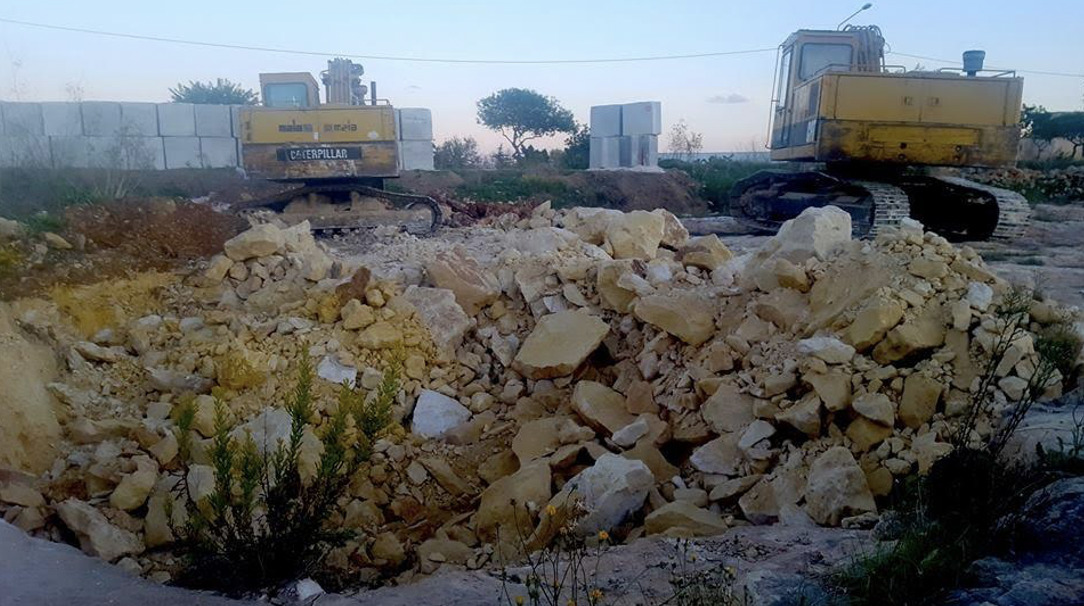 Tragically, last summer even more destruction ensued. Newly uncovered archaeological features, such as postholes and possible cart rut remains, were cemented under to make way for the pathway to Lidl supermarket. Today, the so-called 'protected' area next to the flats seems more akin to a garbage dump than a site of cultural importance.
And now developers want to build another supermarket upon a newly discovered catacomb in the field directly adjacent to Lidl — which several of Mosta's citizens find outrageous and unnecessary. One Malta ARCH member called it an act of 'desecrating graves'.
Deguara discusses the implications of such past and future developments for the community: 'There are social considerations including the irreversible impact on the landscape, the reduction of open space, the dwarfing of St Andrew's Chapel, and the burden that so many new facilities will invariably create on the local community.'

Last year, Newsbook reported how the small and beautiful 17th century St Andrew's Chapel, also situated near the archaeological remains, has suffered cracks in its walls, due to the recent developments. Mosta Archpriest Sebastijan Caruana himself asked AX Construction to view the damage, and Prof. Perit Vince Buhagiar (University of Malta) filed a condition report detailing how construction has caused irreversible structural damage. Raymond Grasso, too, spearheaded a movement to convince authorities to protect it, but in his own words, 'no respect' was shown to the historic 1657 chapel: 'It was put aside and permits were issued by the PA'.
To protest the proposed destruction in 2017, over 2,000 people signed a petition to preserve the archaeological site, and groups such as Temple Rescue Malta and Malta ARCH organized various actions. A website was created, and a University of Malta Symposium was held in 2018 to address the ramifications and prevention of archaeological destruction.

Today, such organisations are renewing their battle to save the site. Moviment Graffitti has already inspired over 265 people to file letters of objection against the proposed destruction, and Malta ARCH created a "Preservation Performance and Art Installation" on 23 January in front of the Mosta Rotunda to raise awareness about the site. However, more support is needed. A petition to "Save tal-Qares Once and For All" has been created through Change.org.
Developing on this site is a tragedy. It is the right of every Maltese citizen to experience these archaeological sites and connect to the past. Every child in Mosta should be able roam the fields and learn about the natural, cultural, and archaeological heritage she or he has been born into. The area, which has the remains of Bronze Age settlements and a Roman building, should be turned into a museum or a cultural heritage centre, not a supermarket. It is the obligation of the government to protect this site, and we need this area to be declared off-limits once and for all. When we destroy Malta — her nature, her history, her archaeology — something is lost for each and every one of us.

Human civilization — and Malta — should not be destroyed for the sake of shopping.
References

Agius, M. Aug. 2019. 'Cracks appear in 17th Century Mosta Chapel'. Newsbook.mt

Bugeja, A. n.d. 'Archaeological sites around Tal-Bistra'. Academia.Edu accessed 12 Nov. 2017.

Callus, A. Nov. 2020. Moviment Graffiti: Personal Communication.

Camilleri, P. 2018. Representation re: PA/03770/16. Archaeological Society, Malta.

Caruana, C. 2 Nov. 2017. 'Controversial Mosta construction site sprayed with anti-PA slogans: 'PA=MAFIA'sprayed onto boundary wall and equipment'. Times of Malta.
The Cultural Heritage Act. 2002. Chapter 445.

Cilia, D. 29 Oct. 2017. Image of 'Treatise about Atlantis' watercolor by Giorgio Grognet de Vasse held at the National Library of Malta. Facebook.
Cutajar, N. and Spiteri, M. May 2014. Archaeological Evaluation at Tal-Qares, Mosta i.c.w. Rationalisation Scheme Map 27, Site E: Preliminary Report. Superintendence of Cultural Heritage.
Debono, J. 18 Nov. 2020. 'Another supermarket proposal…right next to Mosta LIDL'. Malta Today.

Deguara, M. 29 Oct. 2017. Representation re: PA/03770/16.

–. 25 Nov. 2020. Personal Communication.
European Convention on the Protection of the Archaeological Heritage (Revised). 1992. Accessed 12 Nov. 2017.

Grasso, R. Nov. 2020. Personal Communication.


Malta Environment & Planning Authority. 2009. Common Species Used for Landscaping in the Maltese Islands.

Times of Malta. 31 Oct. 2017. 'Mosta site has low archaeological value—PA: PD had warned that site was being 'blasted into oblivion''.

Vella, N. 2013. 'Legislating, protecting, knowing: legal issues and cultural heritage in the Maltese Archipelago'. Geography. 87-106.