With a growing worldwide population, the use of aquaculture systems to relieve the pressure on wild stocks of fish has become invaluable. However, a major challenge still faced in aquaculture is ensuring the survival of young fish. Project HatcheryMatch, a collaboration between AquaBioTech (ABT), University of Malta (UM), Fishery Machinery and Instrument Research Institute, and Qingdao Blue Granary Marine Fishery Development Co., Ltd., aims to solve this problem. Dr Jefferson de Oliveira Mallia of UM and Freya Robinson of ABT speak to Becky Catrin Jones about their latest developments.
The future of fish farming needs a shake up. With the global population increasing, the pressure on farms worldwide is rising alongside the need to dramatically improve output without compromising on cost, people, or the environment.
One of the many challenges in aquaculture is ensuring that recently hatched fish survive to juvenile age. These newly hatched larvae are vulnerable to changes in temperature and water quality, food availability, and exposure to pathogens and bacteria in their environments.
AquaBioTech Group (ABT), a Maltese-based international company working on aquatic and environmental issues, have been tackling this problem head-on for many years. With projects in 55 countries focusing on different ways of improving aquaculture, ABT are working to improve the longevity and sustainability of aquaculture and reduce the reliance on wild fish stocks.
Partnerships with companies and research institutes in China, fostered by the Sino-Malta Fund, have led the company to focus some of its time on turbot (a large species of flatfish commonly found in the Mediterranean, the Northeast Atlantic, and the Baltic Sea), an important part of the Chinese economy. Although turbot can be found in Mediterranean waters, China is now the leading producer of farmed turbot. However, a significant obstacle faced by these partners was improving the conditions for these young fish — the pressure to increase stock often led to a decrease in water quality and reliance on added chemicals as well as difficulties in ensuring the larvae had access to the right nourishment.
Around the same time, ABT was fostering discussion with the Food Sciences and Nutrition research group (lead by Professor Vasilis P. Valdramidis) at the Department of Food Sciences and Nutrition, Faculty of Health Sciences of the University of Malta (UM) about some interesting developments in their field, looking at the antimicrobial effects of ultrasound. The group were studying an exciting method of disinfecting food and water used in food processing and were looking to see how they could scale this up.
As the new Sino-Malta call for funding had a specific portion dedicated for aquaculture, Dr Jefferson de Oliveira Mallia and Prof. Vasilis Valdramidis saw the opportunity to apply their specific knowledge to an area they hadn't previously explored — could their ultrasound cavitation device be used to disinfect water and eliminate harmful bacteria in fish farming?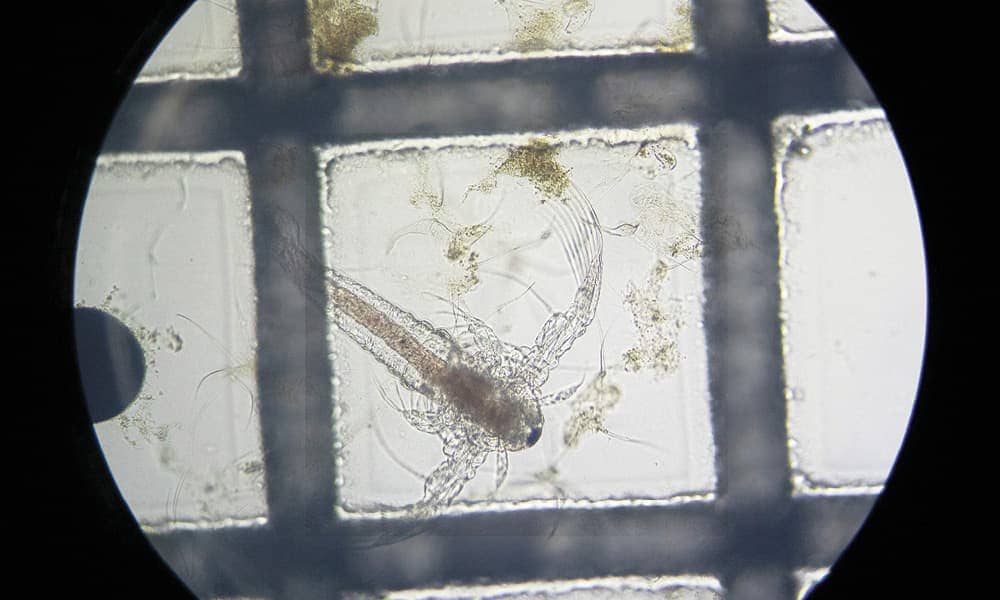 Using Ultrasound
And so Project HatcheryMatch was born. Combining know-how from both academia and industry, the partnership focuses on four elements that aim to improve the survival of fish from hatching to juvenile stage. To do this, each partner focuses on one area — ABT on feeding, UM on disinfection, and two Chinese partners on cleaning and imaging to monitor embryo health.
Although the main focus of the project is turbot, the same principles will apply to sea bass, a large contributor to the Maltese economy, and zebrafish, a small fish often used in biological research. Each of these fish can be infected by the build-up of similar pathogens in aquaculture systems. For this reason, the UM group received three pathogens to get started in testing their theories: Vibrio anguillarum, Aeromonas veronii, and Aeromonas salmonicida.
Mallia, alongside group leader Prof. Valdramidis, had been working on a way to improve the process of microbial inactivation with a process called cavitation, using ultrasound. When ultrasound waves move and pass through water, they create pockets of high and low pressure, like tiny bubbles, as they go by. As the waves continue and build up, this can cause localised areas of intense high pressure or high temperature, which ultimately makes the bubbles collapse, taking with them any bacteria in the surrounding area which has been caught in the extreme pressure. This process of cavitation is well documented in decontamination of foods or on an even larger scale in the destruction of rock faces exposed to lots of fast-moving bubbles in incoming waves.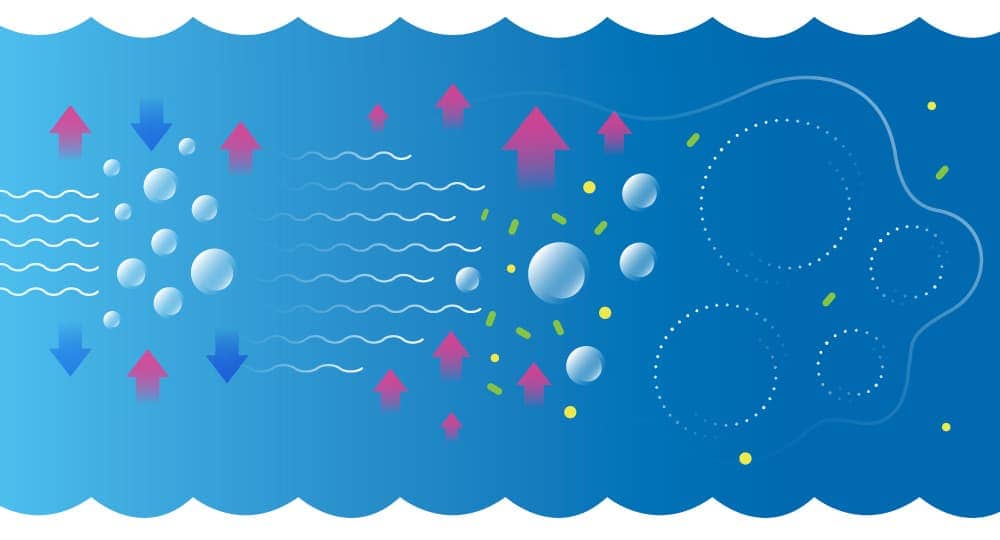 Other properties of the water, such as its softness or the presence of other solids, can impact how the device works and its final antimicrobial effect. But by working in the lab, Mallia can replicate and manipulate these environments for testing. This way, the research group makes sure that there is no change in water quality from using cavitation devices that would impact the fish.
The final part of UM's project will involve incorporating other technologies that will aid the disinfection process and are known to work well with cavitation to tackle other kinds of pathogens. One such example is UV-C light, which can be added to the system to enhance the disinfection process.
Feeling Hungry?
One of the other challenges faced by these young fish is getting access to the right food at the right time. As the fish grow from larvae to juvenile stages, the nourishment they need changes, meaning that different types of feed need to be circulated at the right time. This is both technically challenging and time-consuming, and can lead to a lot of waste. The ideal solution would be to have an automatic feeding system, which could release the right food at the right time.
ABT already uses a system for the adult fish it keeps on site. 'But this is easier to do, as the adults all need the same food,' says Freya Robinson, project coordinator at ABT. 'We can set this up and just let it run with very little manual input.'
For the larvae, a little more effort is needed. ABT's role in Project HatcheryMatch is to design a similar system which is more suited to the needs of young fish and their reliance on live feed in particular. The new system will be controlled by artificial intelligence, which can pump the correct feed into the water depending on which stage of the life cycle the fish are in. The system should be able to reduce manual labour by keeping its own timings, so it's not necessary for a staff member to be constantly checking how things are.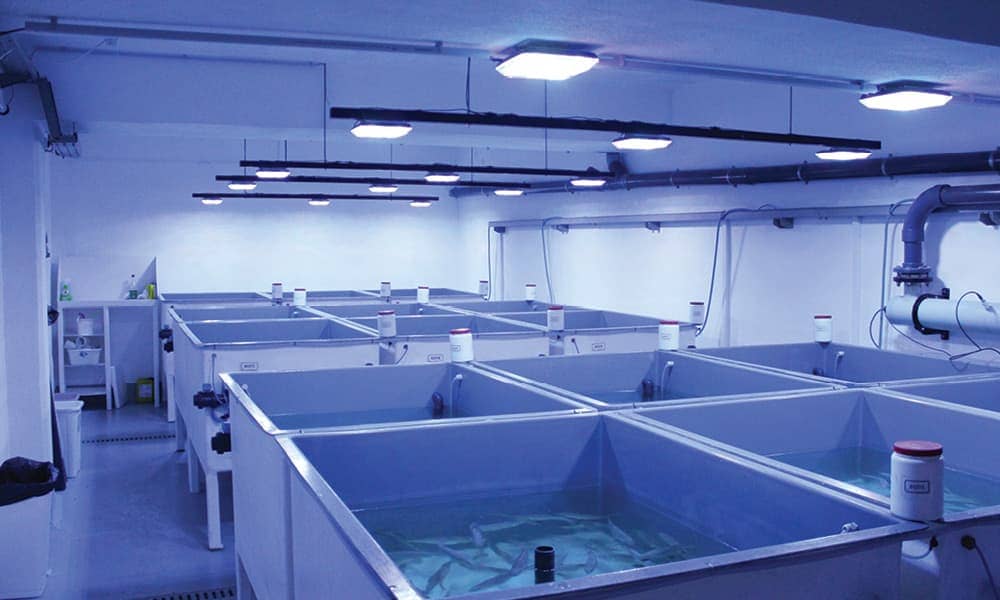 Working across Borders
A project this size is not without its challenges. Besides time zones, language, and technical difficulties, keeping track of a multi-continent project is hard work. But commitment and dedication to regular catch-up meetings and guides explaining how to speak one another's technical language is keeping the project on track.
'It really helps that both Jeff and I have some experience of academia and industry,' said Robinson. 'Scientific research and exploration is important, but at the same time you're still trying to reach industrial deadlines.'
The different priorities and focus of academic partners such as UM do not always match the short time scale, results-focused mentality of industry. Factors such as cost, short deadlines, and understanding what is achievable by each partner in a given time takes clear communication. Luckily, Robinson's role at ABT means she's an expert in finding such delicate balances.
'This is actually quite a small-scale project for us; four partners is more manageable than some of our bigger projects involving 28 partners!'
Changing the Future
Although the pilot project takes place in China, the learnings from Project HatcheryMatch are very easily applied closer to home. 'There is very little literature about the use of cavitation in aquaculture and definitely not concerning the pathogens that we're currently studying,' says Mallia. Pursuing this further could provide even more opportunities to study the use of their technology in other aspects of food production and aquaculture. The UM group also hopes to delve a little deeper, working out the mechanisms by which the inactivation of pathogens occurs.
For ABT, the results seen in turbot can be applied to their own fish stocks, primarily sea bass and zebrafish, both of which are key to the Maltese economy. In time, this can be expanded even further to other fish and their multitude of worldwide partners.
Partnerships between industry and academia are so valuable, and ABT and UM are on to a good thing. Both Mallia and Robinson are confident that the end of the project will not spell the end of this new collaboration between UM and ABT. 'We're hoping that this collaboration will go beyond the current project,' says Robinson. Both industry and academia look to gain here — not only improving aquaculture systems here and now, but also expanding a research field that has huge untapped potential.
Project HatcheryMatch funded by the Malta Council for Science and Technology through the Sino-Malta Fund 2020 (Science and Technology Cooperation).