ALS is a motor neuron disease which affects nerve cells in the brain and spinal cord. Genes play a major role in causing the disease. In her Ph.D. project, Dr Rebecca Borg explored the cause of this debilitating disease in Malta, specifically identifying which altered genes are unique to Maltese ALS patients.
Motor neuron disease (MND) is an umbrella term for diseases which affect specialised cells in the brain and spinal cord called motor neurons. Motor neurons act as messengers, conveying the information responsible for movement from the brain to muscles, facilitating vital processes, such as breathing, as well as limb movement. When motor neurons die, this often results in muscle wasting, weakness, and reduced mobility.
Amyotrophic lateral sclerosis (ALS) is the most common MND affecting adults, encompassing approximately 80-90% of cases, and every case is unique. It also seems that the genes affecting Maltese ALS patients are different from those affecting continental European patients. In her Ph.D. thesis entitled Identification and Functional Characterisation of Genes Linked to Motor Neuron Disease, Dr Borg studied the genetics of Maltese individuals with ALS, under the expert guidance of Prof. Ruben Cauchi.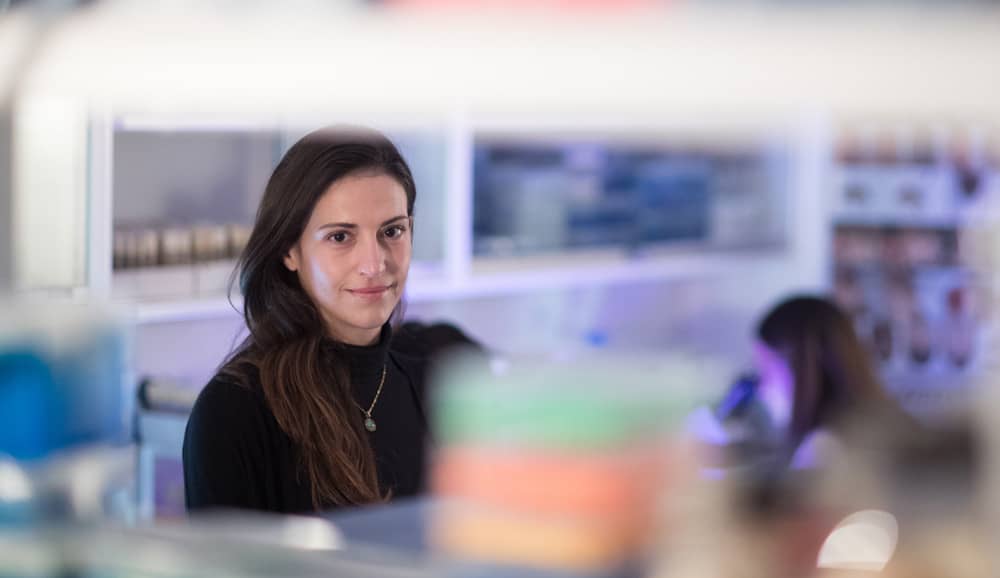 What Causes ALS? It's Complicated
Dr Borg explains that the majority of ALS cases cannot be attributed to a known cause. Moreover, scientists are still trying to figure out why the mutated genes usually implicated in ALS onset and progression specifically affect motor neurons. Dr Borg aimed to study unknown genes which may cause or modify ALS while trying to understand the cellular pathways driven by these genes. By better understanding these genes and cellular pathways, the hope is to identify novel treatments and stop the deleterious effects on muscle function.
To carry out her research, with the support of the ALS/MND Lab at the University of Malta, Dr Borg laid the groundwork to successfully launch the Malta National ALS/MND Registry and Biobank. Samples were obtained by organising house visits for each potential patient, and peripheral blood samples as well as detailed clinical information were obtained. This allowed Dr Borg to analyse each patient's DNA and compare it to that of healthy subjects to identify any alterations.
Certain mutations are associated with particular disease aspects such as the age and site of onset, survival after diagnosis, and how fast or slow the disease progresses. Shedding light on this relationship is significant since it can help researchers understand the underlying cause of the disease. Moreover, the relationship between genetic mutations and physical traits helps scientists understand whether genetic aberrations are disease causing or play a modifying role in the disease progress.
To further narrow down which genes could cause or modify the disease, Dr Borg used animal model genetics. By manipulating the genetic code of the fruit fly (Drosophila melanogaster), the identified mutations present within Maltese ALS patients could be replicated in these animals. The fruit fly is remarkably similar to humans at a genetic level, thus it is an excellent animal model for studying the function of genes. It has been successfully used to model neurodegenerative disorders to understand the underlying molecular mechanisms that give rise to disease symptoms. After generating flies that mimic Maltese ALS patients, the organisms' behaviours were examined to determine if flies developed mobility problems similar to those encountered in patients.
Although population and demographic features of Maltese ALS individuals are similar to those of their European counterparts, their genetics appear to be different. Mutations in the four major genes which are associated with the development of ALS in European populations are rare in Maltese patients. Such findings emphasise the influence of geographical isolation on the genetic causation of ALS. Dr Borg explains that since Malta is an island nation, it is isolated from the rest of Europe. Hence, it is expected that the genes linked to ALS in Maltese patients will be different than those of our European neighbours. This further emphasises the importance and unique nature of the Malta National ALS/MND Registry and Biobank.
Unique Mutations
Apart from identifying the absence of mutations in the four major ALS genes, Dr Borg's research discovered other harmful mutations in genes which possibly contribute to the development of ALS. The association between mutations and disease in some Maltese patients was deduced from similar findings in published literature.
The discovery of unique mutations in Maltese ALS patients demonstrates that treatments being developed against mutations in the four major ALS genes is not necessarily helpful to Maltese patients. Thus, understanding which mutations are present in the Maltese ALS cohort as well as the resultant effect on cellular pathways will enable the eventual development of personalised therapy for ALS patients in Malta.
Despite concluding her research and successfully defending her thesis, Dr Borg says that the Malta National ALS/MND Registry and Biobank is still growing steadily. Awareness regarding ALS and other MNDs is increasing, and a significant number of new patients are being discovered every year. Increasing the number of samples in the Registry and Biobank will aid in the isolation of other significant genes in the Maltese cohort. Moreover, Dr Borg explains that the ALS/MND Lab is actively contributing to Project MinE, an international ALS research consortium which aims to collect several thousand DNA profiles from ALS patients worldwide. The contribution of the Malta ALS/MND Registry and Biobank is beneficial to Project MinE due to the unique genetic pool of Maltese patients. Moreover, by participating in Project MinE, local researchers can compare the Maltese genetic profile to a broader range of samples which have a broad ancestral genetic diversity.
International collaboration through Project MinE allows increased accuracy in identifying which ALS mutations are disease causing within the Maltese cohort. The ALS/MND Lab is continuously working towards increasing our understanding of what is causing ALS in the Maltese population using cutting-edge research methods, with the hope of discovering personalised treatments made in Malta for Malta.
This article was produced in collaboration with the University of Malta's Doctoral School.
Dr Rebecca Borg's Ph.D. was supported by a partnership between the University of Malta's Research Trust (RIDT) and the ALS Malta Foundation.